Yesterday I attempted something I've dreamed of accomplishing ever since I heard about it- breaking the consecutive summit record on Mt. Timpanogos. A "record for the criminally insane," is owned by Davy Crockett with the Quint Timp, which you can read about
here
.
I wanted 6 summits.
(Those of you unfamiliar with the trail/distance/vert conditions of Mt. Timpanogos please read the above referenced post by Davy Crockett. He gives a great report on the trail I took and the general conditions of the mountain.)
Why?
Is the question I get every time I admit my infatuation with the record. I feel like people are really asking,
what on earth do you think you need to prove? and who do you need to prove it to?
Yeah, I know you don't say those words, but I know you think them. Yes, YOU dear blog reader. It's ok, I'd think them if I were you.
To understand my
why
 you'd have to understand my introduction to distance running and the reason behind my first marathon finish.
I always knew I liked to run, but had little success in cross-country in high school, mainly because I hated having to run fast. I liked the motion, not the repeats on the track and the short races. It all both frustrated and bored me. The challenge/reward ratio wasn't of interest.
climbing baxter's pinnacle in the Teton's with Ben. Before I was an OCD runner.... and when Ben still had hair.
So, in college (a few weeks after my 17th birthday) I met a great gal named Mary. On a rock climbing trip, she convinced me to go running with her- a 6 mile run on dirt roads/trails. (Through what is now my favorite place ever- City of Rocks National Reserve). 6 miles was unfathomable to me at the time, but Mary knew enough of me to know I could be talked into pretty much anything that sounded cool.
The conversation went like this:
M: "Hey, Jennilyn, come run with me tonight. I got a great 6 mile loop picked out. It even swings by a water pump, so we don't need to worry about water."
J: "6 miles? Are you crazy? I could do maybe 3. I've never done more than 3."
M: "It'll be easy, you'll see. If you really need, we can run 3 then walk 3. You'll be fine."
J: "I don't even have running clothes, all I have is these boy-short underwear."
M: "Hey, I have the same pair! We can both wear them."
....in our defense, those underwear are longer than some of my current running shorts, and they look just like biker shorts...

Thus was my first long run. I did fine. It was a blast. I don't think we even ended up walking. Mary explained to me about marathons, her upcoming study abroad in New Zealand, and trails. I was hooked. This running stuff was fun! It got me thinking, if 6 miles was so easy, how far could I go?
I started thinking about this marathon thing. Could I run 26? Everyone I talked to (you know, before google days) said I needed to run a half first. Ok, so I'd run a half marathon first.
I started running more about a year later (I was still very dedicated to rock climbing), but I wanted to see how far I could run. So I laced up and ran a few days a week. One day I ran and explored a new dirt road. When I got back, I hopped in my car excited to find out how far I had gone. 13 miles!
Psh, I thought to myself, obviously I can run a half. I just did! So I registered for my first full marathon, which would be in 3 months. (I had been running about a month). It was always about how far could I go and how much I could take. I didn't follow a training program, and very unfortunately did my longest run- a full 16 miles, the week before the race. (Taper?!)
Needless to say my time was very poor (5:06 on a downhill marathon) but I didn't care- I learned I could run 26 miles. I couldn't have been happier.
Coming into ultras a year ago has been a similar testing of my boundaries. Putting the toe in the water and then just diving in.From there I went about improving my time, making drastic cuts each time I'd run a marathon. Then I stopped, swearing I'd never run another. Running marathons had become what cross-country had been in high school- a rat race that I didn't want to be a part of.
Timp repeats has intrigued me because I didn't know what I could do. How far can I go when time isn't an issue? How long til the brutal 4700+ vert gain starts to hit my legs? How trashed can I get and continue going, even slowly? To call it curiosity seems so simple.
I want to test my boundaries. The lovely mountain of Timp seemed like the perfect place.
I can bore you with details on the splits of my failed attempts. I could applaud my beautiful friends who supported me, not only in the planning of the adventure, but in helping me believe in myself and listening to my bitter sadness when the weather put an end to my adventure.
Instead, I'll tell you what I learned.


Belonging is one of the basic needs (Pavlov!) While I mourned some of the issues being a woman in the big mountains, there is something beautiful about admitting insecurities and letting the better parts of human nature shine. So many people offered to run laps of Timp with me. A year ago I moved to this valley and couldn't think of a single person to run with me. All of the sudden I have a dozen people offering to run up a mountain in the middle of the night at a pace they know will be nothing less than a slog. How beautiful is that? There is something so innately right about relying on a "partner." It's not in our nature to always be alone. Even though I didn't make it to run with many of my friends, several came up between laps to encourage and many more were planning on coming. It really means the world to me. I think I have more people in my life right now that I can call friends than I ever have before. This is a feeling I cherish.


God either really loves me or He really loves those who looked at the sky and were praying for my safety. There were a lot of opportunities for yesterday to have a bad ending.


Nothing is impossible. I know, I know. I just failed at my 2nd attempt of a 90+ mile run. I should be wallowing in the bitterness and thinking that all is ruined... BUT- my third time up Timp my legs felt as fresh as the first. I woke up this morning not sore at all. And, I PR'd my mile, my 2 mile, and my 5k I'm sure as I fleed the thunder overhead on my third attempt. I really wish I had a Garmin on to clock that! I ran a few sub 6's in there on very rocky, slick, wet, loose, technical terrain. I shouldn't have been able to move that fast (I had just run 30+ miles and 12,500+ vert gain) but I did. Adrenaline is a good motivator! So, nothing is impossible. There are more boundaries to be pushed.


I didn't discover what I set out to discover. I wanted to know what my limits are. The only limits I got to find out where how uncomfortable I am under thunderstorms (with predicted lightning) and how long I can wear I poncho before I begin to hate its very existence (about 7 hours).


Sometimes "lucky coincidences" or "divine intervention" are truly life savers. I had anticipated leaving for my 3rd lap around 3:30pm, about 20 min after Scott left. About 3:20 it started to downpour hard, and I looked at my dripping poncho, and decided to make a cup of noodles and sit in my car til it cleared. At 4pm it cleared so I packed my vest up... and Jacob showed with with his sweet daughter! So I chatted with them for a while. Jacob said to be careful, lightning similar to Thursday's was projected to move in around 6pm... so when I took off at 4:20 I planned to run hard til 5:30 watching the sky and then make the call. I hit 5:30 with bluebird skies and direct sunshine- the first time all day- and took it as a good omen to start pushing pace and gun it for the summit. 5:47 I did another weather check, wow, it was beautiful! Best it had been all day. At 5:51 I noticed the sun wasn't beaming on me anymore... I look up to utter darkness. Hmmm. I hear a faint, Boom, Boom. Ok, I'll turn around. No sooner than I turn around than I hear thunder directly above me. Scared, I began sprinting track speed across the open meadow, wanting to get back below the tree line. BOOM BOOM right above me again, I'm running my 400m pace... watching the clouds chase behind me and hearing the downpour nipping at my heels. Had the rain not hit at 3:20 or had I not waited to chat with Jacob, I would've been on the summit ridge, exposed, and unable to flee the storm. I am so grateful I wasn't further up or I would've been in a very bad place at a very bad time.


I still didn't make the call until I sat at the car chatting with Jim (he came up to try to catch me on my way down) for an hour and a half or so, listening to the rain pound down with occasional glances at Timp getting hammered. By 8pm it didn't look like it was going to clear any time soon, and I was mentally exhausted from fleeing storms all day.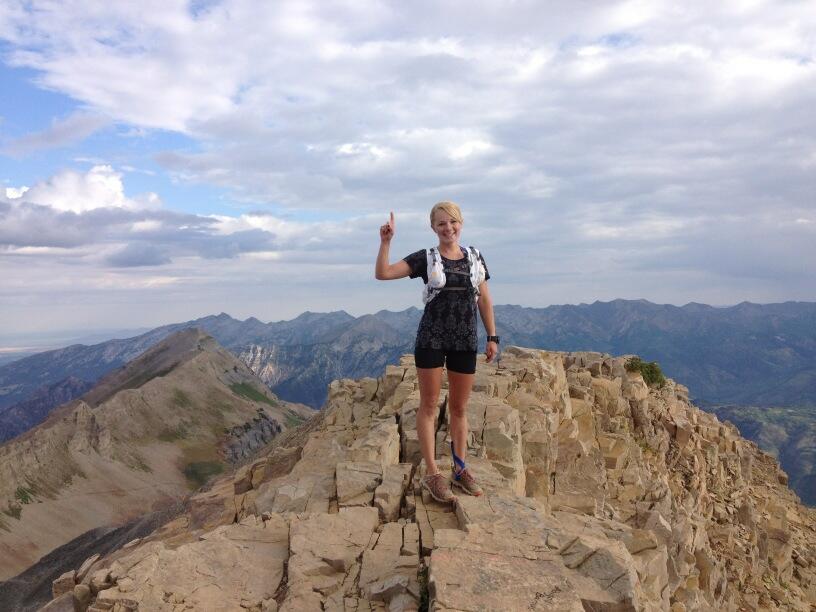 happy on the first summit of Timp. it was still mostly puffy rain clouds and rainbows at this point.
So, I wallowed in a bit of bitterness Friday evening and lamented the bad weather and my failure more on Saturday morning. Two big failures (Bryce, Timp) in one very short season. The Triple C seems to shine out like a little beacon reminding me of what good days in the mountains are.
Now I'm done wallowing. While I'm not sure when I'll have another 30+ kidless hours to have a hack at the Timp record again, I'm already back dreaming big and planning adventures. Maybe two failures (Bryce, Timp) should teach me to stop dreaming big and pushing boundaries. But that's not me. My parents taught me that I could do anything I set my mind to, if I was willing to put in the work.
So, here's to moving on. Here's to shopping for bivy sacks, looking at new lines, and training for new adventures. Here's to new boundaries to test. Here's to years of infinite possibilities.
I'm only 26, you know. I've got time. I'll be back.
I guess the most important thing I learned yesterday is....
it's better to try and fail than to not try at all.
...so try I will.